There's one less family living in a Project Stepping Stone house – and that's good news! J.J. and her four kids recently moved out of one of the PSS houses and into a place of their own! J.J. recently shared the story of her experience.
I am the single mother of 4 children ranging from 16 years to 4 years.  We enjoy being outside, dancing and being silly, cooking and going new places together.  I have worked with children and families my entire life trying to build strong families and communities.  When I came to PSS I was at rock bottom.  My grandmother, who was the only grandparent I was close with, had just been put in the hospital and continued to get worse.  I had gotten sick and missed work just weeks before and was staying with her due to not being able to keep up on my rent and utilities.  My 15 year old son and I packed our entire house and moved by ourselves.  I was trying to get a better job with the state, and the job I was at was going downhill quick to where I hated going everyday. So many things were stacked against me I wasn't sure if I would be able to pull myself out. When I met with the PSS team I had a hard time getting through my story without the emotions that I had been holding in  in order to show my kids that I was strong and that we were going to be okay from flowing out. I was met with compassion and felt hope.  This was also around Christmas, so that added to the stress of the situation.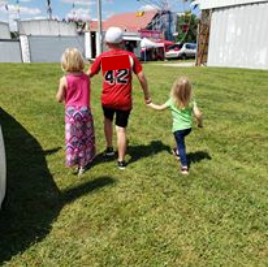 While participating in PSS, my grandmother passed away, I was able to start my current job, and save up enough money to look for a home for my family.  I knew if I needed anything, PSS had my back.  I am so grateful for the opportunity to have had this fresh start and the chance to rebuild after so many physically and emotionally exhausting months.
Looking forward, I know that people I have met in this journey truly are friends for life and genuinely care about the families they encounter.  I try to offer positivity and pay forward the kindness my family has been shown.  If not for PSS, I don't know where we would be.

http://www.projectsteppingstonemuncie.org/wp-content/uploads/2018/12/PSS-LOGO-VERTICAL-GREEN-FIXED_Short-711x1030-2-207x300.jpg
0
0
pssmuser
http://www.projectsteppingstonemuncie.org/wp-content/uploads/2018/12/PSS-LOGO-VERTICAL-GREEN-FIXED_Short-711x1030-2-207x300.jpg
pssmuser
2020-06-22 03:29:02
2020-06-22 03:33:18
PSS Resident Focus: J.J. and 4 kids